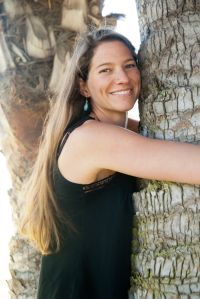 I was born at home in St. Louis, Missouri. When I was 8 years old, I moved with my family to a small village in Kazakhstan. I spent five of the most formative years of my childhood there, going to a Kazakh school and learning how to grow and preserve food. This is where I developed my passion and love for growing organic food & herbs and being surrounded by nature.
After completing High School and one year at the University of Arizona, I moved into my VW Rabbit and hit the road. I spent my time working seasonal jobs and rock climbing, backpacking, biking, skiing, snowboarding, and practicing yoga in vacation destinations. Five years later I bought 20 acres in the Methow Valley, located on the east side of the North Cascades in Washington. I became even more passionate about growing and preserving organic vegetables, fruits, and medicinal & culinary herbs. I began attending primitive skills gatherings and learning as much as possible from my elders and friends for the next 5 years.
During my time in Washington I developed a lot of pain that became chronic. What kept me searching for the answer was a deep sense of knowing that I must go through this experience in order to one day be able assist others in understanding the process of healing. As I regained my health, I realized it was time to move forward on this path.
In November 2010 after practicing yoga for 10 years, I became a Certified Yoga Instructor at Yandara Yoga Institute. Since then, I have been teaching Vinyasa Flow and Restorative Yoga classes on a regular basis. In April 2012 I became a Certified Massage Practitioner at The School of Healing Arts. I am also a Certified Doula with the Madriella Program taken through the Somatic Arts and Sciences Institute. I continue to study different massage modalities, medicinal herbs, nutrition, women's wellness, as well as the art of compassionate communication (NVC model).
My primary focus is to assist people in getting to a state of peace and relaxation that allows the body to begin healing itself. I bring this same focus, using massage and breathing techniques, into the birthing room to assist women in allowing their bodies to do what they already know how to do.
I strongly believe that the first step toward healing the planet is to first heal ourselves. Please join me in this effort!